There have been A LOT of rumors circulating the internet about Guns N' Roses and the 14yr delayed album for some time and none have been on the money, but recently an actual song was released to the game "Rock Band 2", making it the first song in 9yrs to publicly be released since "Oh My God" was released. Unfortunately, the song was not met with approval by both the fans or the general public as many sites report this as one of the CONS of Rock Band 2. I believe this is due to the fact that it's almost impossible for ANYBODY to imitate Axl Rose effectively, thereby not allowing the game to be beaten 100% on all songs as you have to actually sing the song. I personally have been told I can sing like Axl, but I don't believe that for a second and I never will. Proof is at the following:
http://www.youtube.com/jerryfar
Either way, a new original song was in fact released to the public that wasn't a leak or unfinished demo, so there is something. The latest rumor (or fact?) is that "If The World" appears in the end credits of 'Body of Lies'. The movie is not out so I can't confirm or deny. People that have seen preview screenings of the movie confirm it is in fact there. Fact or fiction? Won't know until the movie (or at least soundtrack) is released, but so far there is no track-listing for this album. Is it true? Who knows, but it's at least SOME news other than the recent "Skwerl was arrested for leaking new songs.. blah blah blah" which I didn't even post here because I didn't really see the need due to it being on every site you could possibly find, plus official site *STILL* has it posted there as they have some major problem with updating the site for the fans to see anything official and we all have to rely on rumors. Here is what is posted currently the 'OFFICIAL' site: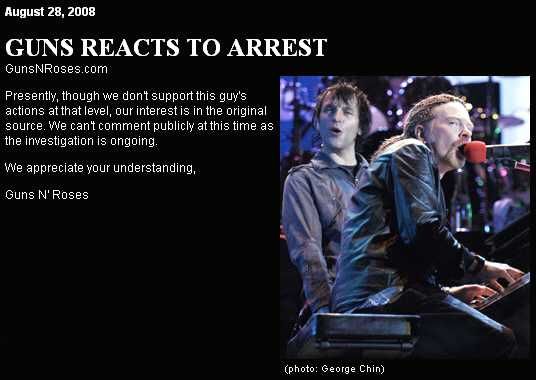 Now for the latest (and possibly best) rumor I have read about. Below is an article taken from Rolling Stone that is too hard to deny, mostly because a simple Google search will show SEVERAL sites with the same info:

So again I ask: Are the rumors actually true this time?!!! Is 2008 FINALLY the year in which we will see 'Chinese Democracy'?! Will we wait another 14yrs and see nothing? Does Axl have to die before we actually see the album reach the masses? WILL the album ever meet the masses? These questions (and others) will hopefully be answered very soon. November 25th, 2008 is not far away....
-me